Punta Del Este is famously known for being the party hub for the rich, famous, and beautiful from Brazil, Argentina, and all over the world.  It is remotely placed about a 2 hour bus ride north of Montevideo, and is typically only accessible by bus (for most of us), or private plane or yacht. It has been dubbed the Hamptons of South America. The typical summer day, mid-December until March 1st, sees the streets littered with sun bathers showing off their bikinis and bodies while drinking expensive champagne on some of the most beautiful coastline in South America. The city sits on a peninsula that is occupied with high rise luxury condos and shopping boutiques that every girl dreams of. The weather is perfect and the party goes all night. Now, I know it sounds like all good reasons to go, and they are, but here are the top reasons why you should go during the off season based on a trip my wife Anh and I recently took.
1.  Cost of Accommodation:
The city only has about 9,000 year around citizens, but the infrastructure has been built for 200,000. This allows for those willing to come during off season to find fantastic deals on housing. Anh and I stayed at a hotel that would traditionally go for around $150 – $200 per night.  After dropping in unannounced I was able to negotiate $36 per night for us. That is over 75% discount!  This hotel included private bathroom that has been recently remodeled, white sheets, air conditioning, heater, HBO/Showtime/cable TV, mini fridge, breakfast, and $10 bike rentals for the entire time we stayed. I know this sounds like a normal room, but if you have read our post about Montevideo then you will know that it was a huge upgrade and was very welcomed compared to the $13/night hostel. We also noticed that there were private residences and condos for rent as low as $65 per night on www.Airbnb.com. So if you are a budget traveler, like we are, and still want to be able to experience everything an area has to offer, then this is a good choice.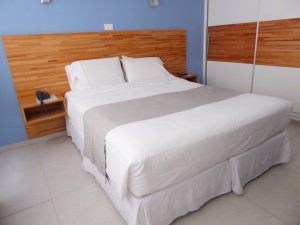 2.  Private Beaches:
Anh and I woke up this morning to sunny blue skies and 62 degrees. We took advantage of the bikes from the hotel and headed off with nowhere in mind. We knew absolutely nothing about the area, but were armed with our GoPro and since of adventure. Almost immediately outside of the hotel we were met by a beautiful white sand beach that had gentle but long breaking waves that allowed a few surfers to practice. We continued on and since there were no crowds, we actually took the bikes down onto the sand and just rode for miles. We got our feet wet and took in the view of the city across the street.  We continued along the coast line for another 7 miles gawking at the amazing mansions and chasing the pigeons. About 6 miles north we ran into a small beach town called La Barre and stopped to grab lunch and a beer. It was fantastic being the only ones there and it felt like our own private island. The beach continues to spread out for miles. The serenity of being alone allowed us to sit and watch the waves uninterrupted by loud music, smoke, or drunk people. It was an experience I had never had and would not trade it in for the hustle or bustle at all. Take a look at our time lapse video of some of the sites we saw today!
3.  Peace & Quite Together:
Not only are the beaches deserted, but the entire town has a feeling of abandonment that slowly draws you in. We did not have the worry of what to see next, where to make reservations, or what we were going to miss. It was just relaxation. Anh and I have found that when we are traveling, we tend to feel the need to do everything and see everything, which makes coming back from a trip just as exhausted as when we left. Don't get me wrong, we really love taking in new things and experiencing new places, but the last couple days of not having an agenda has brought us even closer than before. Sure, there were still a couple of restaurants open in town, but for our money, going to the grocery and grabbing prepared food and a bottle of wine was not only economical but very enjoyable!
This was just our experience of Punta Del Este and believe me, it was totally worth the visit during off season. That's not to say we wouldn't both love to come during summer as well to celebrate in all the craziness. The bottom line is, when traveling don't let other people's idea of the norm get in the way of you experiencing something off the beaten agenda. Punta Del Este is just as beautiful in the fall as in the summer, but just a little different. If you have the right travel partner and a sense of adventure, then nothing else really matters.
Until next time, keep exploring!