When traveling abroad for an extending amount of time the greatest question mark is also probably one of your biggest expense, lodging. Like in any major city, you can stay at expensive hotels but that isn't very sustainable on a tight budget, and you may be missing out on the opportunity to meet new people. Of course there are gives and takes to both, so we decided to try 3 very different but affordable options ranging from private and trendy to, well, not so luxurious.
Days 1-8  (Cost $33 per night)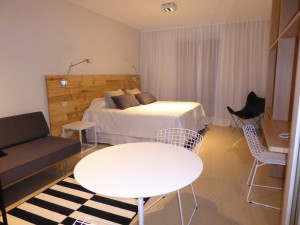 After 3 nights at a hostel in Colonia, we were ready to switch it up. So instead of booking a hostel in Buenos Aires we checked out www.Airbnb.com. At first we didn't expect much given our tight budget but to our surprise we started finding very nice condos listed. A little outside of our set budget but before giving up I put on my negotiator hat and sent out several owners counteroffers. I figured why the hell not? Within minutes we started getting responses back accepting the counter offers! We hesitated at first because of some looming bad memories from our Europe trip and bad Airbnb owners, but decided that beggars can't be choosers.
The apartment that we settled on was centered in the middle of the San Telmo barrio of Buenos Aires. San Telmo is a working class neighborhood that has the grit and grime the likes of Brooklyn, but also brings out the true charisma of the people offering cheap eats and live music every night of the week.  To get to the apartment we had to waunder through some back streets at 9 pm and were relieved when we entered the unmarked rusted door to a brand new renovated space that was doing a soft opening for a new hotel. The young management team had only completed renovating 50% of the rooms in the building and wanted to cash flow the few that were ready so they listed them for cheap on Airbnb. We sure lucked out! This space was emaculately decorated in chic black and white linens, wood furnishings, a flat screen tv, a full kitchen, working wifi (which can be hard to find), a balcony with a view overlooking the pool, and most of all a private clean bathroom!
Needless to say we loved our stay in San Telmo, and felt completely rejuvenated after cooking good food, getting cleaned up, and sleeping on a cloud.  We were ready to check out some of the other more hip neighborhoods and the possibility of meeting some new people so we packed up again and headed out to Palermo.
Day 9  ($24 per night)
We had met some other travelers while on a free walking tour in Buenos Aires that had booked a room staying with a host couple through www.Airbnb.com and had loved it. We thought this was a very cool way to meet some locals and getting affordable accommodations. We knew we wanted to stay in Palermo, the hip side of town with an abundance of cafes, restaurants, and bars. We found a private room staying with a cute couple in their late 30's that was in the heart of Palermo at a good price, so we jumped on it.
The couple's names were Juan and Sol. Juan was a freelance graphic designer that worked from home and Sol was in marketing for Time Warner. They had an older style 3-bedroom condo that showed its age, but had very welcoming and charming décor that made us feel right at home. It had hardwood floors from the 70's that squeaked and pictures on the walls that showed they loved to travel and explore the world just as we did. We sat up in the evening chatting about our travels while watching a Yankee game in the living room. They were both from Venezuela (hence the interest in baseball) and spoke pretty good English. It was a very comfortable and enjoyable experience, and we would have loved to stay longer but they had already committed to having someone else stay in the guest bedroom for the upcoming week. So our journey in Buenos Aires continued to a third place.
Days 10-12  ($20 per night for 2 people)
We loved the Palermo area so much that we decided that we should just bite the bullet and book a hostel right in the heart of the Soho district where the party scene starts at midnight and lasts until 7 in the morning. We went online and found a hostel that had good reviews and was in the area we wanted to be in. The hostel was called The Art Factory, and man, it sure lived up to its name.  Right behind the reception area before entering the main hostel was a wall that was 15 feet high with a graffiti artist painting a mural. It was bright comfortable and clean. The downfall of staying in a hostel was that we shared a room with 16 people and slept on separate bunk beds. This was not ideal, given the fact you have 14 other people coming and going throughout the night, but again it was cheap and clean.
We had met some guys from Washington DC on the free walking tour that were also staying in the hostel. They invited us to hang with them at Palermo's famed "Burger Joint" restaurant where they serve massive American style burgers with fries and a beer for under 10 bucks. Anh and I have heard of this place already through another friend so we were excited to see what the raving was all about. They were ridiculously delicious. Seriously thick patties with mountains of toppings. After stuffing our faces, we went to the Square for some drinks until the am. The rest of the nights in the hostel were more low key, with us buying steaks at the local market and cooking them in. The great part about cooking in at a hostel is that you are sharing the kitchen with several others at the same time. We chatted and befriended people from all over the world and have stayed in contact with some even today.
Conclusion
We loved every minute of our stay in Buenos Aires and believe that the variety of our accommodations played a big part. There are times where privacy are the most important, but you don't have to stay at expensive hotels to get it. Other times are about meeting locals and other travelers. What we found out is that even though staying at a Westin or other expensive hotel is nice, there is a lot more adventure to be found if you open your mind to the experience! Our average cost per night was just over $25 per night and all the places were clean, safe, and in a city that most people believe to be too expensive to travel to.